Flagstaff Urgent Care Using PhotoSpring Digital Frames in Waiting and Exam Rooms
PhotoSpring Digital Frames Help Serve Customers More Efficiently
FLAGSTAFF, AZ . Flagstaff Urgent Care (www.flagstaffurgentcare.com), a leading urgent care facility in Flagstaff, AZ is using PhotoSpring Digital Frames in its waiting room and exam rooms to help communicate with customers and increase staff productivity.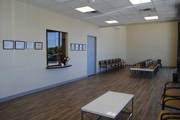 "In the waiting room, these frames allow us to preemptively answer the most common administrative questions people have, freeing up our staff to serve the specific medical needs of our patients," said Dr. Thomas Ho, the Chief Medical Officer of the clinic. "In the exam rooms, we use these frames to remind patients about things like flu vaccinations, common seasonal ailments and healthy living."
Flagstaff Urgent Care manages its frames through a cloud account. To make a change the following occurs:
A staff member logs into the cloud account from anywhere in the world.
Changes are made by adding, deleting or editing photos
Every hour, frames contact the server to download the latest changes.
Dr. Ho states, "the feedback to the frames has been very positive. Patients get the answers they need even when the staff might be with another patient. We routinely add new information based on the season or changes to our policies."